International Conference on Quality Leadership and Management in the Nuclear Industry
15th FORATOM-IAEA Management Systems Workshop
16-19 July 2018 – Ottawa Canada
Abid Imtiaz
Chief Scientific Officer – Bangladesh Atomic Energy Commission
Degrees: Obtained Ph.D. in Material Science from Shizuoka University, Japan; M. Sc. and B. Sc. (Honors) degrees in Physics from Jahangirnagar University, Bangladesh; Post-Graduate Diploma in Radiation Protection (IAEA Post-Grad Educational Course) from Universiti Kebangsaan Malaysia (UKM).
Experience: Have been carrying out research and development activities including the pursuit of knowledge and expertise in the fields of Radiation Protection, Nuclear Safety and Security in Bangladesh Atomic Energy Commission (BAEC) since January, 2000. During the last 5 years, activities were largely focused on development of organizational culture and culture for safety and security in BAEC. In addition to attending a number of IAEA Technical Meetings (TM), Workshops, its worth mentioning my participation and contributions to the IAEA Consultancy Meeting (CM) on the Development of learning objectives and content for the e-learning module in Culture for Safety for Nuclear Power Program.
Current position, responsibilities/projects: Currently holding the position of Chief Scientific Officer in Nuclear Safety, Security and Safeguards Division of BAEC. Current responsibility and research interest are primarily focused on development of culture for safety and security in BAEC. Working as the Project Leader (Bangladesh), since 2014, of 'Security and Safeguards Project' of Forum for Nuclear Cooperation in Asia (FNCA); Chief Scientific Investigator of IAEA CRP-122004, 'Coordinated Research Project on Organizational Culture Basis for Successful Performance in Nuclear Power Plants,' entitled, "Factors that can influence culture for safety, organizational culture and human performance at nuclear and other facilities in Bangladesh."
Publications: In addition to a number of scientific papers published in various international peer reviewed journals, couple of popular articles and 'interviews' related to 'culture for safety' have also been published in native language Bangla and also in English in national print media.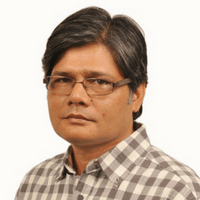 Copyright © 2017 – FORATOM – Avenue des Arts 56 – 1000 Bruxelles Tel: +32 2 502 45 95 – VAT: BE0862.233.493