International Conference on Quality Leadership and Management in the Nuclear Industry
15th FORATOM-IAEA Management Systems Workshop
16-19 July 2018 – Ottawa Canada
Deucksoo Lee
Senior Vice President, O&M Service Group, NSSS Division – KEPCO E&C
Deucksoo Lee has an extensive career in the nuclear field through his 37 years of service at the KEPCO Engineering & Company, Inc.(KEPCO E&C), Korea Atomic Energy Research Institute (KAERI), KEPCO Nuclear Fuel Company (KNFC) and Hyundai Engineering & Construction Company.(HECC).
Currently, he is a Senior Vice President of KEPCO Engineering & Construction Company, Inc. and working for the Operation & Maintenance Service Project Group of the NSSS Division. Over the past 21 years in KEPCO E&C, he has served for the Shin-Wolsong 1&2, the Hanul 5&6 Nuclear Power Construction Project and the Wolsong-1 Refurbishment Project as a Project Manager. In addition, he was stationed at KEPCO E&C's Pickering Office as representative between Sep. 2012 and Dec. 2014.
Before transferred to KEPCO E&C in 1997, he served KAERI for six years as a Project Control Team Leader of Wolsong 2, 3 & 4 Construction Project. During the implementation stage of the Wolsong 2 contract, he was attached to the AECL for 13 months to participate in the Joint System Design.
Before joining KAERI, he served KNFC as an Assistant Project Manager of the Reconversion Facility Construction Project for two years. Before move to KNFC, he served for HECC as an Assistant Construction Manager for Kori units 3 & 4 for 8 years.
After graduated from the university, before entering the HECC in 1981, he served in the Korean Airforce as a Lieutenant, Depot Maintenance Officer for three years.
Throughout his 37 years in the nuclear industries including engineering and construction area, he has received various awards ranging from "the KEPCO E&C Presidents' Excellence in Business Development" to "the Award of Minister of Commerce, Industry and Energy". In addition to these recognitions, he has many publications and journal papers focusing on various aspects of nuclear and energy related fields.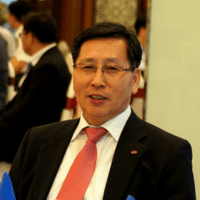 Copyright © 2017 – FORATOM – Avenue des Arts 56 – 1000 Bruxelles Tel: +32 2 502 45 95 – VAT: BE0862.233.493