International Conference on Quality Leadership and Management in the Nuclear Industry
15th FORATOM-IAEA Management Systems Workshop
16-19 July 2018 – Ottawa Canada
Scott R. Klavon
Director, Nadcap Program & Aerospace Operations – Performance Review Institute
Scott is the Director of Nadcap Program and Aerospace Operations for the Performance Review Institute (PRI). Nadcap is a $34M industry managed program that provides special process technical capability assessments for the aerospace industry. Scott was named to this position on November 22, 2010. In his role, Scott has overall management and P&L responsibility for the Nadcap program as well as responsibility for identifying additional aerospace sector needs and creating industry managed solutions. During Scott's eight years at PRI, the Nadcap program has experienced growth of over 20%. Additionally, under Scott's leadership, PRI has launched a new industry managed Counterfeit Avoidance Accreditation Program.
Prior to joining PRI, Scott held a broad variety of positions at SAE International over a 22-year career culminating with a position as part of the executive management team. Prior to joining the staff at SAE, Scott was an Aviation Maintenance Engineer at the Naval Aviation Depot Pensacola supporting US Navy and Marine Corps H-1 aircraft. Scott began his professional career as a commissioned officer in the US Navy.
Scott holds a Bachelor of Science degree in Aerospace Engineering from The Pennsylvania State University and is a graduate of the University of Pennsylvania Wharton School Executive Development Program. He is an Associate Fellow of the American Institute of Aeronautics and Astronautics (AIAA), a Fellow of the Royal Aeronautical Society (RAeS), and served on the Board of Director for the American National Standards Institute (ANSI). Scott is a Chartered Engineer in the United Kingdom.
Scott is married to Gretchen Klavon and resides in Sewickley, PA. His interests include antique cars, fly fishing, and vintage audio equipment.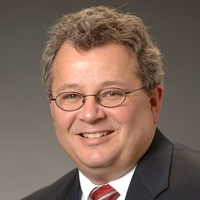 Copyright © 2017 – FORATOM – Avenue des Arts 56 – 1000 Bruxelles Tel: +32 2 502 45 95 – VAT: BE0862.233.493